Torreta ( Sentry Gun )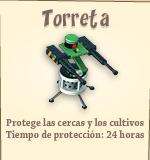 Esta Maquina es obtenida por el doctor
Dyson de la base militar,
la consigues en el patio de tu casa
requiere 5 click para reparar y 100 
monedas por click  y perdirle ayuda a
3 amigos o pagar 5 creditos FB por
trabajodores , solo por la primera activaciòn.
Protege las cercas y los cultivos en
Tiempo de protecciòn : 24 horas.
No suelta nado ni da monedas por
cada zombie que elimines. Bueno para
la protecciòn de las paderes y los cultivos
la torreta tiene una armadura indestrucctible.
No mata a los zombies de mision como los zombies
militares , xxl entre otros.
Descripciòn del arma
Edit
| Torreta | |
| --- | --- |
| Tipo : Elimina a los zombies de su alrededor | |
| Daño : 4 | |
| Municiòn : Infinita | |
| Costo : 27 Creditos FB | |
Subcategories
This category has only the following subcategory.
Ad blocker interference detected!
Wikia is a free-to-use site that makes money from advertising. We have a modified experience for viewers using ad blockers

Wikia is not accessible if you've made further modifications. Remove the custom ad blocker rule(s) and the page will load as expected.