Lancer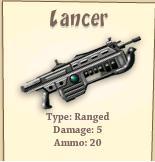 Salio en venta el 10 de enero del 2014.
Usa tus habilidades de matar zombies
para matar a los zombies con esta
imprecionante arma es una màquina.
Tiene un daño alto con municiòn media
i es capas de matar a un zombie de
rango (fuerte) de un sola rafaga
da buen bonus de exp por cada
zombie que elimines y monedas en
los zombies de rango (fuerte) .
Esta armas solo la puedes comprar en 
el mercado special o value pack.
Descripciòn del arma
Edit
| Lancer | |
| --- | --- |
| Tipo : De alcance | |
| Daño : 5 | |
| Municiòn : 20 | |
| Costo : 60 creditos FB | |
| Bonus por muerte : 25 de exp y 6 monedas. | |
Trivia                                                                                                                                                             
Edit
Esta arma es similar al Lancer de Gears of war.
​
Subcategories
This category has only the following subcategory.
Ad blocker interference detected!
Wikia is a free-to-use site that makes money from advertising. We have a modified experience for viewers using ad blockers

Wikia is not accessible if you've made further modifications. Remove the custom ad blocker rule(s) and the page will load as expected.